Village School is happy to inform you that our students continue to aim high and Think Big! As a result, all graduating students at Village School continue their studies in many universities, locally and abroad. Even though the pandemic has affected everybody, our students have kept applying to universities abroad and have been accepted around the world.
College counseling for our students has focused on providing information regarding the application process, financial aid, deadlines, programs, and new trends regarding future jobs. This has led to an increase in the number of students applying to universities in more countries, as well as the percentage of students studying abroad.
We are also happy to report that the financial support our students have received from various universities has increased significantly in the last three years. Our students continue working hard and shining in places such as Guatemala, Mexico, the USA, Canada, Colombia, Spain, Italy, France, and many more countries around the world.
For the next 2022-2023 school year, Village School has partnered with BridgeU. This new platform will allow students to learn more about universities in the USA, and other countries around the world.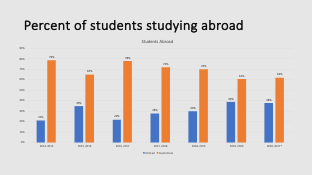 Village Students abroad in the past three years!!
Universities 2020
Brigham Young University – USA
UC Santa Cruz, USA
Duke Kunshan University in Suzhou, China
ACU, USA
Universidad de Navarra, España
Texas A&M University, USA
Universidad de los Andes, Colombia
Universidad Europea del Atlántico en Santander, España
Drexel University, USA
Masaryk University, Czech Republic
Tecnológico de Monterrey, Mexico
Drexel University, USA
Kyoto University, in Japan
Anáhuac, Mexico
Martin Methodist College in Pulaski, USA
NYU, USA
Fordham University, USA
Cal Poly San Luis Obispo, USA
CSU Monterey Bay, USA
Universities 2021
Lycoming College – USA
Wentworth Institute of Technology – USA
Austin College – USA
Marywood University – USA
Karlshochschule International University – Germany
Oklahoma Christian University – USA
Southwestern Christian University – USA
Roanoke College – USA
Louisiana State University – USA
St. Francis College – USA
Davis & Elkins College – USA
Dundalk Institute of Technology – Ireland
Utah State University Eastern – USA
Anáhuac, Mexico
Fanshaw University Canada
BHMS, Switzerland
Concordia University
Gannon University
Thompson Rivers University, Canada
Universal Arts School, España
Tecnológico de Monterrey, Mexico
University Of New Haven in Connecticut, USA
Hawaii Pacific University, USA
Universities 2022
INBAL, Mexico
Suffolk, Boston, Massachusetts, USA
Creighton,Nebraska, USA
Anáhuac Querétaro, Mexico
ITAM, Mexico
Universidad Anáhuac en Puebla, Mexico
Regis College, Boston, Massachusetts, USA
Moraine Valley Community College, Illinois, USA
International Business school of Milan, Italy
Scad, Georgia, USA
Full Sail, Florida, USA
CEU, Spain Tecnológico de Monterrey, Mexico